COMPUTER-CONTROLLED NEEDLING
I am Sarah Vaughter, dermaneedling expert.
Over the past seven years, my company has grown to be the largest manufacturer and vendor of dermaneedling supplies. We always wanted to sell a good electronic needling device. Dermaneedling is collagen/elastin regeneration therapy to greatly reduce the severity of scars, stretch marks etc. I never managed to find a machine that works as it should. So we set up a lab and invented it:
The Derminator®
.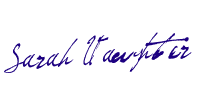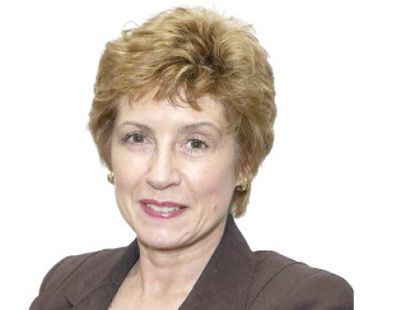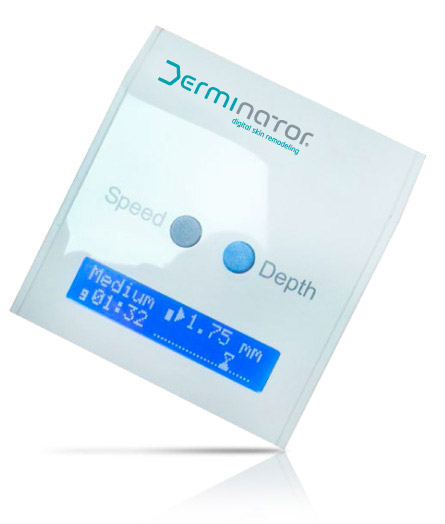 WHAT'S SO
SPECIAL ABOUT

THE DERMINATOR:
Minimal pain due to very short duty-cycle. Due to the unique accelleration power of the very powerful variable-depth patent-pending motor invented by us specifically for dermaneedling, the needles are only in the skin for about a thousandth of a second per prick. It's still not a pleasant feeling on the deepest needling depths but it's much, much less painful than manual needling, let alone needling with cheap Chinese machines which tear up the skin. You can certainly spare yourself the expense for numbing cream.
Digitally set needling depth. Very convenient! Changing needling depth is done by pushing a button on the console, not swapping adapter rings or twisting something on the hand unit. No need to interrupt treatment to adjust needling depth.
No microtearing. The short duty cycle (% of time the needles spend inside the skin and as a corollary scraping over the skin as well) completely prevents horizontal tearing. "Microtearing" causes pain and it permanently tears the edges of facial pores, enlarging them. Without microtearing there is minimal pain, minimal skin trauma and swelling, minimal bleeding and the shortest recovery time. See on this page how weaker devices' long duty cycle causes skin tearing. Try such a device yourself on a piece of paper with a 1-needle cartridge!
Very powerful motor. The device really penetrates to the depth it is set to, which is often not the case with cheap, weak Chinese-made devices. The Derminator continuously measures and shows the actual needling depth, and adjust motor power in order to maintain the correct depth. No other device can do that.
Easier psychologically, much less fatiguing and guaranteed, consistent depth. The machine needles your skin instead of you yourself pushing needles into your skin.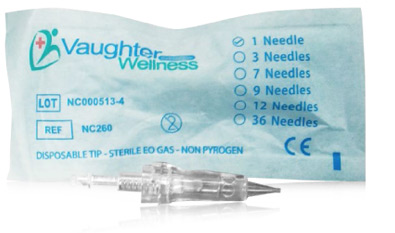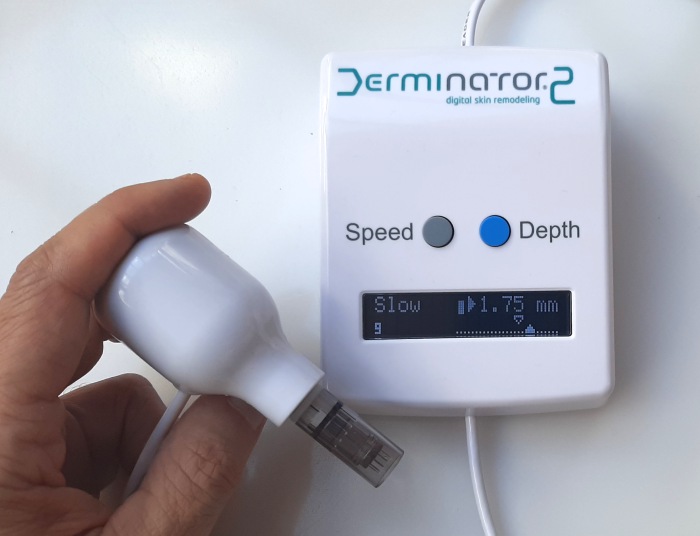 Fully automatic calculation of how long to needle a skin patch to achieve optimal prick density, based on user input of the area of the skin patch. A timer counts down and turns off the machine when the proper prick density has been achieved, depending on needling speeds used.
Single needle cartridge available. Single-needling can target problem areas quickly and intensively, without needlessly needling surrounding skin.
Needle cartridges are of very high quality (very sharp needle tips without ever a bent tip - examine competing brands' cartridges under a microscope..) and are cheap. They are so cheap that with the Derminator, digital needling costs about the same as manual needling, if you plan on needling various skin areas for at least one year. And after that you'll still have a resellable Derminator (because it's very easy to clean and disinfect the motor on the inside, see this video), so effectively it's much cheaper than manual needling.
DEMONSTRATION OF THE DERMINATOR'S INTELLIGENT TIMER


(KNOWS HOW LONG TO NEEDLE THE SKIN)

Testing of our prototype. The device sounds much louder than in reality due to the microphone being right in front of the hand unit while our engineer is further away and behind the microphone. The max. sound pressure is 60 dBA only. To hear how the Derminator really sounds, scroll to the last video of a demo of the device being used on the skin.

A powerful motor is relatively noisy but absolutely required to avoid microtearing and to penetrate to the set depth, something the Chinese "buzzers" can't even do, because of the feeble "permanent makeup" motors they use. The popular YYR Derma Pen (made in China) for example causes extreme microtearing. We tested many devices and all those pen-shaped, relatively silent devices have the same fatal flaws, due to their puny motors.
DEAR SARAH! I AM VERY IMPRESSED WITH THE DERMINATOR. I HAVE USED IT TWICE, ONE TIME FOR MY BODY ACNE SCARS AND ONE TIME FOR MY FACIAL ACNE SCARS. I HAVE USED THE FASTEST SPEED AND 2,25 MM DEPTH. IT REALLY IS NEARLY PAINLESS, UNBELIEVABLE. THANK YOU EVER SO MUCH!
A. D., STOCKHOLM, SWEDEN
I just want to say THANK YOU to owndoc! I am thrilled with the quality of your products and the abundance of information you offer around dermaneedling. I am using the derminator 3 weeks now and I can not believe HOW GOOD and effective it is. With the manual rolling I had only very subtle results since I use the derminator for anti aging reasons (face) I am absolutely excited.
Already after the first time I saw a BIG difference. to be honest this is the best tool I ever have used and I love love love it. Derminator definitely does the work and brings the results I have expected earlier from "normal" dermaneedling. It is easy to understand and to use, it is highly effective and it brings even with 0.5 needle length MUCH better results than the manual rollers with longer needles. And last but not least it does not hurt at all.
I highly recommend it! Thanks to all of you who have worked and developed and researched to offer such a wonderful tool to us!
Michaele Cerstin Frey
Comparison between an analog $1200 clinician's device
and our $175 digital Derminator® available to home users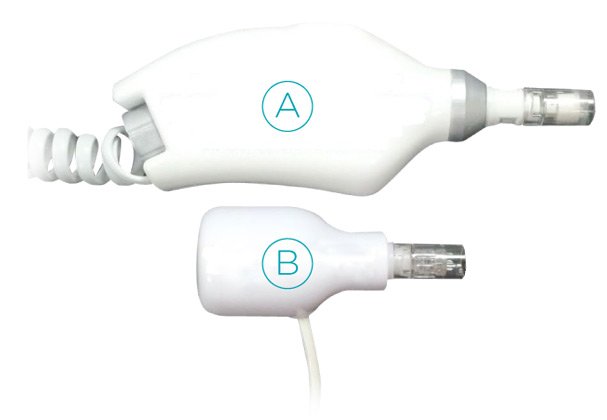 THE DERMINATOR'S
ERGONOMY
WE PUT 7 YEARS OF EXPERIENCE INTO IT
Competing devices with sufficient power to avoid microtearing are large and heavy because they put all electronics in the hand unit. This one weighs 130 grams. The spiral cable (which is too short) puts additional stress on the hand. Needle depth is changed by replacing an adapter. Also the speed can only be changed by interrupting the needling proces.
Our hand unit weighs 80 grams and fits in the palm of the hand. Its cable is over a meter (3 feet) long so the machine can even be on the floor while you sit on a chair.


DERMINATOR SPECIFICATIONS:
Needle diameter (all cartridges):
0.15 mm. (38 SWG, 34½ AWG)
Needling depth range:
0.25 to 2.25 mm in increments of 0.25 mm, digitally set.
Needling frequencies:
3, 5 and 25 Hz.
Available needle cartridges:
1 and 9 needles. Only our brand cartridges ($3 and $4) can be used.
Max. nr. channels/minute:
13500
Speed of treatment with optimum
prick density (250 / cm² or 1500 / in²) for best
collagen/elastin regeneration results:
54 cm² / min.
9 in² / min.
A cheek takes about 1 minute to treat.
A typical stomach area takes approximately 10 minutes.
Noise level:
Slow: 50 dBA. Medium: 55 dBA. Fast: 60 dBA. Loudness table.
Louder than Chinese devices but still very tolerable.
A device that does not cause microtearing and fully inserts
the needles as quick (= painlessly) as possible is louder than
a device without much accelerating/penetrating power.
Currently available Chinese-made consumer devices are faking it - they are based on permanent makeup technology.
They tear and scrape and do not go as deep as they claim.
They grossly overstate their needling frequency as well.
Microtearing is standard with all those pen-shaped devices.
Motor design/maintenance:
Zero-maintenance, extremely durable design.
The reciprocating magnet and the inside of the 100% inside-and-out waterproof motor
can be accessed by removing the needle cartridge and cleaned with a cotton swab dipped
in sterilizing solution.
This is important for clinicians, who have a requirement for absolute cleanliness.
Special features:
The user can specify skin area, the device calculates and counts down the time to move
over that skin area with the selected needling frequency, even when that changes while needling.
Safety features:
"Safe return" needles. A back magnet pulls the reciprocating magnet up as soon
as the electromagnet is powered down.
The power supply unit has a medical safety certification.
The entire machine, including the coil in the hand unit operate on 5.4 V only.
The mains power is triple-insulated from the user, which is one level above
the safety requirement for medical equipment.
The machine can easily be disinfected inside because the entire inside of the motor
is made of plastic - it's a plastic tube.
Microcontroller:
Atmel AVR technology. 16 million instructions/second.
Needle depth sensor accuracy:
Top-range Honeywell Hall sensor. +/- 0.0065 mm.
Verification & feedback control of the needling depth 9000 times per second.
NO MICROTEARING!
NOT A WEAK "PERMANENT MAKEUP" PEN-TYPE DEVICE BUT A POWERFUL MOTOR.
Microtearing happens with all electronic dermaneedling devices we did not invent. The reason is that other manufacturers do not sell a powerful device is mainly because those manufacturers are "recycling" their existing permanent makeup devices without an understanding of the different requirements dermaneedling has, but also because powerful devices are louder than those cheap Chinese "buzzers" with cheap, weak motors and power suppplies. Powerful devices such as the Derminator need relatively expensive, large motors and power supplies and will not work on batteries. Far-East manufacturers think people will prefer those cheap rechargeable buzzing pen-type devices instead. But until we exposed the microtearing issue, it was generally unknown that this is what happens to your skin when you use such a device.
The Derminator is not like the cheap Chinese "buzzers" that really are rebranded permanent makeup machines with a different needle cartridge. Most pen-shaped devices won't penetrate properly and all of them cause microtearing because a powerful motor plus a battery do not fit in a thin pen.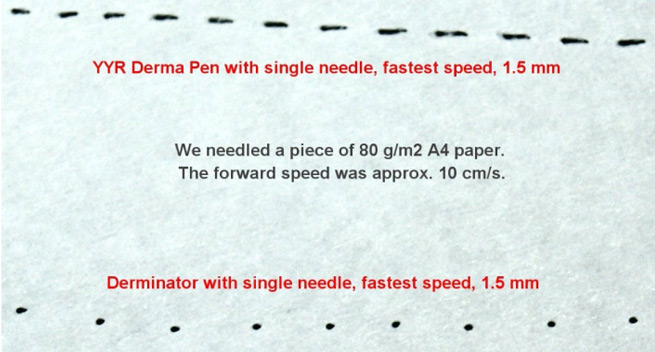 Don't believe us on our word (and on our video evidence) - repeat this experiment yourself with one of those pen-type devices! The main danger is that the edge of pores will get ripped, causing major, permanent pore enlargement. But there are other significant risks as well. So you have to choose: A louder, more expensive but very powerful device so that it is able to generate the high accelerating forces required for a very short duty-cycle (% of time the needle is inside the skin), or a silent, weak device that always causes microtearing:
DEMONSTRATION OF MICROTEARING
Demonstration how other devices tear the skin. This device, the YYR DermaPen was used to create the previous photo but we saw similar results with all other "dermapens" we tested, and we tested quite a few, such as the Korean MCure AMTS-H, which tears even more. The test paper used in this video had even much worse tearing than shown under the microscope but it would have taken too long to locate it. The photo showing the microtearing is a more controlled experiment, using identical movement speeds.
THE DERMINATOR'S
DISPLAY




SET SPEED

Operating mode. Can be Slow, Medium, Fast or Timer, where you can specify a skin area size and the machine calculates how much time should that area be needled with the current speed setting. When you change the needling speed, the remaining time changes as well.



NEEDLING
FORCE
Power indicator. Shows how hard the machine needs to push the needles to reach the set needling depth. Good indicator of how thick the skin or scar tissue is.



SET
DEPTH

Depth setting. From 0 to 2.25 mm in steps of 0.25 mm. The position of the upwards-pointing white triangle corresponds with the set depth.



NR. OF
NEEDLES

Number of needles in the current needle cartridge. 1 or 9. Important to verify that the timer mode's calculations are using the correct needle cartridge, and also to calibrate the sensor properly to the cartridge geometry.
DOWN
TIMER TO
REACH PRICK
DENSITY FOR
SET AREA

Countdown timer for the Timer wizard. This is an incredibly useful feature! The device allows you to specify the area in inch² or cm² of a skin patch by specifying width and length, and it then calculates, using 250 pricks/cm² or 1500 pricks/ in², how long you should needle that patch in order to achieve that prick density. The device will stop when the timer has reached zero. All the user has to do is move the device with circular motions equally over the entire patch a few times during that time period.


ACTUAL DEPTH
(SENSOR
DISPLAY)

Needling depth indicator. The bottom triangle indicates the set depth in increments of 0.25 mm. The down-pointing triangle shows the actual needling depth, or, more accurately, how far the needles are penetrating out of the cartridge. This indicator serves as a verification that the device is working properly and that the correct needle depth is indeed attained. It also reminds the user to maintain proper pressure on the skin, because when you lift the device too much from the skin, the depth indicator will briefly show a deeper depth.
MOTOR INTERNALS CAN BE CLEANED AND DISINFECTED WITH LIQUIDS
Competing Chinese "buzzers" such as the Eclipse Micropen are not just not up to the task (they cause microtearing due to their feeble motor), they're also a severe contamination hazard due to a fundamentally flawed design, as can be read in
this FDA incidence report
. The Derminator's motor consists of a plastic coil body, hermetically sealed on the back end. The electronics inside the motor are 100% liquid proof. Inside the motor is a reciprocating magnet, held in place by an internal magnet behind the sealed motor coil. If you want to fully clean the inside of the motor you simply shake out the magnet or lift it out with a small steel screwdriver and clean it with alcohol. The motor's inside is nothing but a sealed plastic tube, so cleaning it is a breeze: You can use liquids, Q-tips with a disinfecting solution, you can insert anything in there and use any sterilizing fluids to thoroughly clean and disinfect the motor. The motor will even work perfectly when wet inside! You could for example use a pipette to drip alcohol into the motor, close off the open end with a gloved finger and shake vigorously, then rub a Q-tip in there to clean the inside of the tube and repeat the process a few times. Let the alcohol drip out and evaporate (or dry with a rolled up tissue), then put the magnet back. The Derminator is a professional device, not an over-hyped, over-priced, rebranded Chinese-made permanent makeup machine with a dermaneedling cartidge.
Using the Derminator on the face. Excellent, non-solicited demo.
Note that he made a mistake when he selected the number of needles in the cartridge. He selected [1] instead of [9].
This can have serious consequences when using the timer, also, needling depth is not correct when selecting the wrong needle cartridge.

Using the Derminator on the arm.
Open the video in YouTube for a detailed explanation.
-THE MACHINE DOES NOT ACTUALLY NEEDLE THE SKIN IN THIS DEMO, IT IS TO SHOW TECHNIQUE ONLY!
-THE MACHINE WAS MODIFIED TO NEEDLE TO A DEPTH OF 0 MM SO THAT THE SOUND LEVEL IS REALISTIC.
-ACTUAL TREATMENT DURATION IS MUCH SHORTER - THIS IS ONLY TO SHOW THE NEEDLING TECHNIQUE!
Using the Derminator® against individual stretch marks on the buttocks (old model machine).
Open this customer-submitted video in YouTube for a detailed explanation.
Deep Derminator® treatment of the face, involving bleeding. "After" pictures included.
Open this customer-submitted video in YouTube for a detailed explanation as well as our comments.
Derminator® treatment of the face. Sound starts at 2:28. "After" pictures included (72-y.o. patient)
Open this customer-submitted video in YouTube for a detailed explanation.
Derminator® treatment of the face.
NEEDLING WITH THE DERMINATOR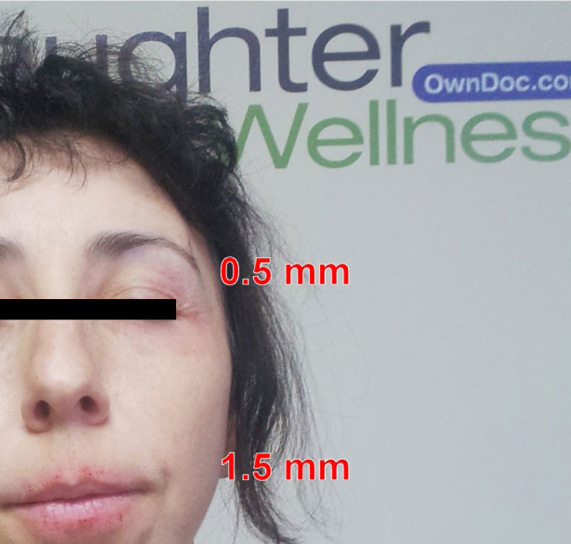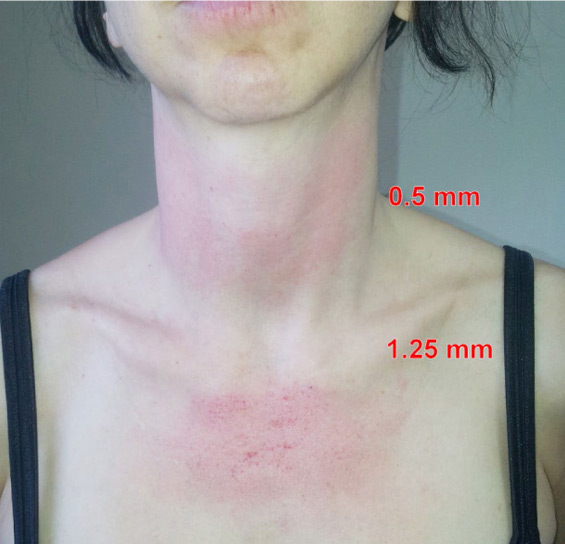 I AM VERY HAPPY WITH THE DERMINATOR I ORDERED, AND VERY APPRECIATIVE OF THE QUALITY AND CARE THAT WENT INTO DESIGNING THE MACHINE, IT IS EVIDENT THAT YOU TAKE PRIDE IN THE PRODUCTS THAT YOU OFFER AND I AM GLAD THERE ARE COMPANIES LIKE YOU AROUND! THANK YOU SO MUCH, I AM VERY HAPPY WITH MY PURCHASE!!!
M. T.
WHAT PEOPLE SAY ONLINE
ABOUT THE DERMINATOR
We used to have here a long list of endorsements for the Derminator that we found online, but we removed them because the Derminator® has become so popular that anyone visiting a skin-related forum or doing a web search can verify its popularity. And we still do not advertize because we still can barely keep up with demand, since we produce these devices ourselves, not in China! People say that it is by far the least painless device (some dislike the relative loudness but we include ear plugs), they like that the needle cartridges are inexpensive, the absence of microtearing (dragging/scratching), the powerful motor, the indestructibility and lifelong warranty and the very low price of the device, considering the fact that this is the only digital professional device with unique, very useful features such as a timer that knows how long to needle any skin area with any frequency. No one mentions the quality of our needles because that is always assumed, but we examine samples from every batch, holding the needle tips under a microscope, checking for bent tips, which are common with other brands and completely invisible with the naked eye. We have never found bad needles because our cartridges are produced in a way that this can not occur.
Before using the Derminator


A few months after using the Derminator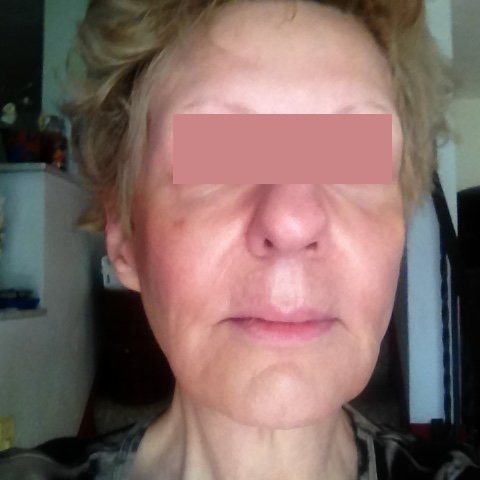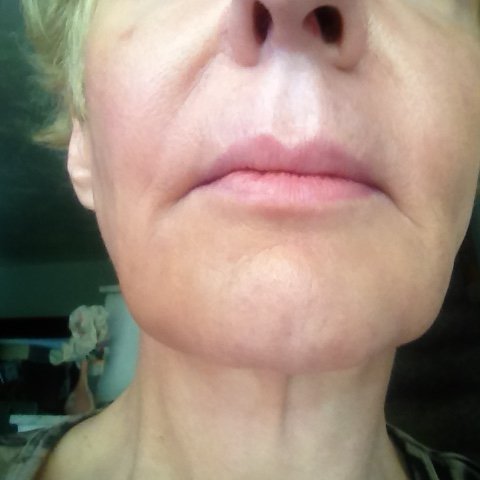 Photos used with permission. These photos were submitted by a 65-year old customer who is delighted with the results.
She wrote us that she achieved great improvement in sun damage, lines, large pores and discoloration.
Before using the Derminator (June 2016)


After 5 Derminator treatments (June 2017)
These photos were submitted by Annа Strоmquist. We added red markings. Used with permission.
She wrote: Hi Sarah I thought you might enjoy this before and after. Notice the fine lines, skin laxity on the left. On the right is one year later after using the derminator approximately 5 times. Fine lines are improved. Pores and skin are tighter. Skin has a PLUMP feel. I get told all the time I look way younger than I am! I swear it's the derminator. Needle depth -- cheeks and chin I have gradually adjusted from 1.5 to 2.0 mm. The forehead and periorbital area gradually as well. Began at 1.0 and now at 1.75 mm. I've been using infadolan but not the vitamin C or HA as you suggested. I will do that soon. Thank you, Annа

Unlimited lifelong warranty. No need to send a bad unit back!
We can offer this because these machines are indestructible. They simply have no parts that can wear out.
The only moving part is a magnet. If you lose it, you can buy a replacement from us for a couple of dollars.